Lima Convalescent Home is a licensed nursing home and assisted living facility with a long, rich history in our community dating back more than 60 years.
We were the first nursing home in Lima, opening our doors in 1958 on Allentown Road in Lima to care for the elderly and chronically ill. We remain in the same beautiful location today.
We are also the only non-profit nursing home in Lima. That means as a 501 (c)(3) non-profit corporation, all the money that comes into the organization stays here and is put right back into the facility. This allows us to maintain and update the facility so we may continue providing our clients with the high quality care, services and technology they've come to rely on.
In 1986 our campus grew to include Lochhaven Apartments for residents who wished to maintain a level of independence in a safe, assisted living environment. Then in 2004 we were granted certification to provide Medicare and Medicaid covered services.
In 2019 we opened The Greens, a new concept in long term care. Our two beautiful family-style homes provide full skilled nursing care in a home setting where elders and others enjoy excellent quality of life and quality of care.
Between the three facilities we offer Lima's older adults a truly unique residential and health care campus providing assisted living, Alzheimer's and dementia care, skilled nursing care and rehabilitative care all in one beautiful and convenient location.
We are proud of the excellent reputation we have obtained in and around the Lima community for many years and we look forward to serving you and your loved ones for many years to come.
Specialized Care
When you need rehabilitation, our skilled therapists and nurses will provide the care you need to get back to your regular life as quickly as possible. We offer rehabilitation care, memory care and extended care provided by our skilled, caring staff.  Our goal is to help you keep or restore the skills you need for daily living that you may have lost due to illness or injury. Our goal is to help you enjoy your life again. For those with Alzheimer's or other dementia, Lima Convalescent Home provides understanding, compassionate care in a safe, secure environment.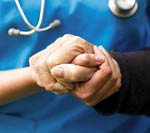 "Having Mom at Lochhaven is such a relief and comfort for both her and our family. We know she is getting loving care by the nursing staff. She enjoys being able to watch mass via live streaming during these quarantine times, and she is able to get the social interaction with her peers that she absolutely needs. Mom has been at LH for over a year, and both she and I are very happy with the choice she made."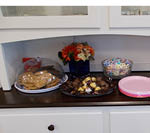 "The Greens has been a wonderful experience for my mother. Every time I go there to visit, she seems engaged, as does the staff. Recently during the pandemic period, I couldn't be more impressed with their actions to keep my mother safe. While I'm sure it has been especially tough for my mom and the staff, they have made special efforts for us to still engage with her. I know my mother is in a good place."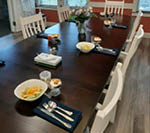 "The food at The Greens has been AMAZING not to mention the entire facility and staff. Our loved one is eating so much better! We love The Greens!"
Meet Our Board of Trustees
As Lima's only non-profit nursing home, we are guided by a volunteer Board of Trustees. These hardworking and compassionate men and women live and work in Lima and many have had entrusted us with the care of their aging loved ones.
All decisions are made locally and all profits are reinvested back into our facilities so we may continue to provide our residents with the highest quality care, services and modern technology.
Mr. Warner Kugler
President
Mrs. Margaret Whitlatch
Vice President
Mr. Phillip Trueblood
Treasurer
Mr. John Stedke
Assistant Treasurer
Mrs. Anne Decker
Secretary
Mr. Brad Roush
Assistant Secretary
Mrs. Nancy Rudolph
Past President
Mr. Carl Berger
Board Member
Mr. James Eaton
Board Member
Dr. Melissa Harvey
Board Member
Mr. Robert Komminsk
Board Member
Mr. Don Fischer
Board Member
Mrs. Linda Hovest-Bloomfield
Board Member
Mr. Brad Roush
Board Member
Mr. Richard Schroeder
Board Member
Ms. Christine Provaznik
Board Member
Mr. Richard Kortokrax
Board Member
Judge John Willamowski
Board Member
Ms. Corliss Boose
Board Member
Request Information
We are excited to tell you more about the exceptional care offered at Lima Convalescent Home, Lochhaven Apartments and The Greens. Ask for more information and schedule your personal tour today.